Deymoun: The Traveling Mercenary
A downloadable game for Windows and Android
It is now being expanded on and will receive some updates soon! The old version will still be available but a blog update will be made when the new version releases. Obviously buying the game now gives you access to the future updates. I will be increasing the price closer to final release. (8\6\2019)

This is a game was originally made for the OpenGameArt.org Game Jam #2

In this PS1 JRPG inspired game you play as Deymoun, a traveling Mercenary with one thing on his mind: money. But after dredging through some mines for the past two days, and no money to his name, he needs somewhere to find some food and rest.

After picking up a small job at the nearby village of Lianza, he's just about ready to call it a night before he hears an odd sound that he needs to investigate.

What happens next? Well, you gotta play the game.

This game features:
Lively NPCs
Turned-based Combat with emphasis on the elements.
Fishing
Cooking
And a short story to boot!

I hope you have fun playing the game. Feel free to leave comments about anything you like or dislike about the game! :D


This game was made with the SMILE GAME BUILDER engine and Unity.
Download
Click download now to get access to the following files:
Comments
Log in with itch.io to leave a comment.
hey, do u have discord? i want talk with you :)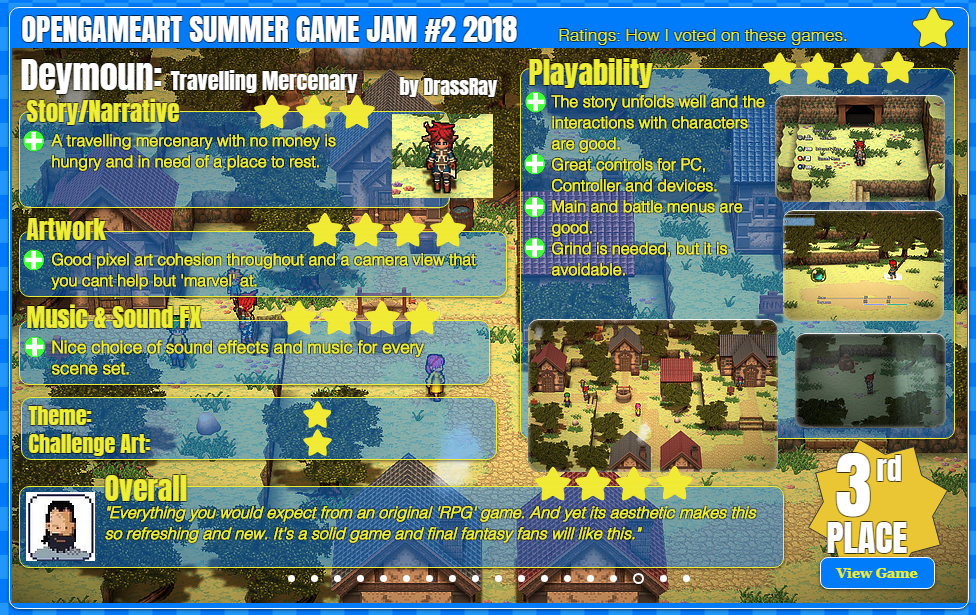 Thanks for participating! See you next year!
Whoa! Cool graphic, thanks for that! :D I'm guessing these are up on the website? Thanks for hosting, it was fun! :D
Yes they are up on my website, aswell as the others that participated, but my website won't be live again till the new year :( still working on it you see, there shared on my Twitter page aswell. Glad you enjoyed the jam, there is another OGA jam that starts in 10 days being hosted by withthelove studios, if your interested check out the opengameart website or here on the jam pages. Again thanks for taking part.:)